---
Annual audit survey: final report published
Exactly ten years ago CASC launched the clinical audit jobs bulletin to help keep those in our field up-to-date with current audit vacancies. Since commencing this initiative in July 2019, we have produced 325 jobs bulletins reporting on >1,700 vacancies. Moreover, every July we produce a short report focusing on the data collected to help the audit and QI community gain a better understanding of key trends and developments. We are delighted to release our ninth annual report focusing on a decade of data. The headline news is that over the last 12 months we have seen a record number of clinical audit jobs (n=260) advertised on NHS Jobs website (the previous high was 234 in 2014/15). As in previous years, the most frequently advertised job band is Band 5 and it is encouraging to report that the number of Band 7 and 8 vacancies remains on track with previous years (31 in 2018/19 compared to 32 in 2017/18). The most notable finding this year is that there are considerable discrepancies in pay for vacancies with the same title. For example, there were 23 Clinical Audit Facilitator vacancies listed over the last 12 months with these roles offered at Band 4/5 and 5. This means that there could be a difference of up to £16,494 for staff undertaking the same titled job. CASC will undertake further analysis and report in future. To read the four-page report, click here.
CASC audit/QI competitions launched
We are delighted to be able to announce full details of our clinical audit and QI competitions for 2019. This year marks the 10th anniversary of our first-ever junior doctor audit competition and we are proud to have had so many high-quality projects submitted since 2010. Indeed, many submissions have been published in online journals. As with previous years, juniors can submit to either our clinical audit or QI project awards and this flyer provides more details. Juniors have until 30 August to submit their entries and the entry forms can be downloaded here. In addition to the junior doctors, for the first time ever in 2019 we are running competitions for nursing staff. This flyer supplies more details and effectively the competitions are open to nursing staff (as defined as Nursing and Midwifery Council members) that have led a clinical audit or QI project. Nurses have until 2 August to submit their entries via these forms. In both instances, finalists will be asked to produce posters showcasing their work with judging taking part during Clinical Audit Awareness Week #CAAW19 (25 to 29 November 2019).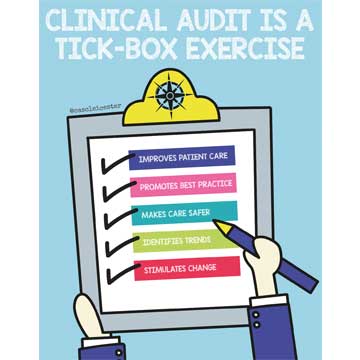 New Excel tools released
To assist those with an interest in clinical audit, we are delighted to be able to release a number of new bespoke Excel tools. Initially we are releasing three Excel spreadsheets with more to follow later in 2019. This work will also compliment the work we are undertaking on providing an accredited Excel course for audit and QI professionals. If you are interested in this, please get in touch. The first Excel spreadsheet is our 'Is it Audit' tool (click here) and by simply answering 4 questions you can determine if your idea is a clinical audit or not. Up second, we have our 'Ready Reckoner' (click here) and this allows you to quickly evaluate your audit idea to see if this is likely to be a successful audit project that is worth undertaking. In a similar vein, HQIP have allowed us to adapt their Quality Impact Analysis Tool (click here) and by completing the Excel form your proposed audit will be allocated a score out of 60. Both our 'Ready Reckoner' and HQIP tool will help you determine whether your audit is worth conducting and help you consider its relevant merits and weaknesses before commencement. Finally, our 'Clinical Audit Critiquer' (click here) allows you to review completed audits and by answering questions the project will be awarded a score out of 25. This is an approximate way of assessing the quality of an audit project based on a number of criteria that most would view as best practice.