---
CASC annual survey: have your say
Many of you will know that since 2010 we have tried to 'take the temperature' of the clinical audit and QI community via our annual survey. Indeed, many of you may have kindly taken time to submit data for us. The survey is unique and has previously been used by the likes of Sir Nick Black during his time as chairman of the National Advisory Group for Clinical Audit and Enquiries to assess the planned reinvigoration of clinical audit. This year we have followed our own expectations of national audits, i.e. that they should be concise, reporting results quickly. With this this in mind we have significantly reduced the length of the survey and as a result it will be quicker for participants to complete. We are also aiming to share a full report by the end of January 2019 that will compare data over nine years. We are rightly proud of this piece of work given no other bodies conduct wide scale surveys of the clinical audit community. You can take part here and we thank you in advance for your support. You can also download a poster here to share with others and this helps raise awareness and encourages others to take part. The survey closes on 24 December 2018.
#CAAW18 proves a huge hit…
We would like to congratulate all members of the clinical audit and QI community for their hard work and dedication that helped make Clinical Audit Awareness Week 2018 a huge success. We certainly had a very busy week from 19-23 November, travelling the country to deliver training sessions to a variety of teams, including a large NHS Hospital Trust, a Social Care provider with four homes and a Veterinary School. In addition, we also helped our friends at Leicestershire Partnership Trust with their amazing QI day on the last day of #CAAW18. Many thanks for all the kind messages on Twitter and comments sent directly to us. It is amazing to see from stats posted on Twitter, that over the duration of #CAAW18 we attained the most re-tweets and favourites on Twitter. Considering we only follow HQIP, we are justifiably proud of this. It was also heartening to see so many local teams using our free resources as part of their clinical audit displays. Our Dummies Guide proved a big hit and once again many teams used our pledge cards to encourage engagement. Our dedicated Clinical Audit Awareness Week webpage was visited numerous times and we were pleased to see positive feedback on our case studies and profiles. For us, clinical audit is a 52-week of the year activity and therefore we have decided to make this page a permanent feature on our website.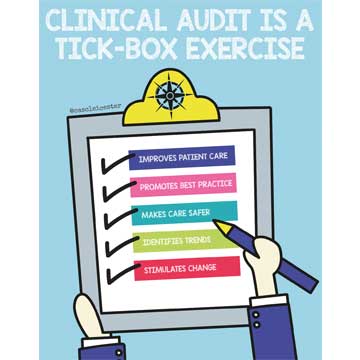 Looking to the future!
#CAAW18 may be at an end for another year, but we really want to see the momentum of this initiative continue. With this in mind we plan to announce winners of our #CAAW18 and Audit Strapline competitions at the start of December. We will once again be running our annual Clinical Audit Survey for the ninth year in succession. Those with an interest in taking part in this will have until 24 December to submit their responses. We have also highlighted during #CAAW18 that there is currently an imbalance in the distribution and funding of National Clinical Audits with many relevant to hospitals, but few looking at Mental Health Care and none created specifically for our colleagues in Social Care and Hospices (who manage some of the sickest members of our community). Our 'Walking in a Winter Wonderland' ditty, click here, is meant as fun but also conveys an important message and we feel passionately that the time is now to re-balance the national audit programme. With that in mind, if you are interested in working with us on creating a bespoke clinical audit for care homes then please contact us as we plan to take this work forward in 2019.