---
Take a look at our QI blog!
Just six month ago we set up our QI blogging site on a web platform called Wix. The main reason for doing this was to showcase our wider work programme beyond the world of clinical audit. Indeed, the majority of blogs that we have added to the site focus on patient safety and quality improvement. Our aim is to publish one blog per week and to date we are keeping up with this, having just published our 28th blog. To access the blog page, click here. In addition, we have created an infographic listing all 28 blogs and this is available here. During #CAAW19 we were delighted to share a number of guest blogs written by local staff and national leaders. If you are interested in writing a blog for us, then please get in touch. Most recently we have used the blog to feedback free-text comments from our annual survey. The last three QI blogs look at: the best attributes of NCAs, how to improve NCAs and 10 radical suggestions on how to move the national audit programme forwards.
Patient safety training and RCA
Clinical Audit Support Centre are delighted to announce that we have revised all of our root cause analysis training materials in line with the new NHS Patient Safety Strategy. In addition, our root cause analysis training is now accredited. All learners can gain a Level 3 qualification if they complete a short post-course assignment. We are also delighted to announce that we are working in partnership with Healthcare Conferences UK to deliver London-based and in-house root cause analysis training. To find out more about their one-day and two-day courses, please click here. At the start of 2020 we also hope to create a short Dummies Guide for RCA and SEA as these two techniques are now being advocated to help improve safety and enhance learning from lessons. Our Clinical Audit Dummies Guide has proved a huge hit and we know busy NHS staff and healthcare professionals like these resources.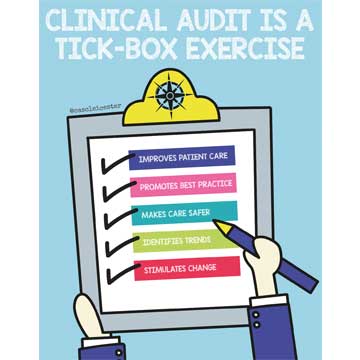 New Excel tools released
To assist those with an interest in clinical audit, we are delighted to be able to release a number of new bespoke Excel tools. Initially we are releasing three Excel spreadsheets with more to follow later in 2019. This work will also compliment the work we are undertaking on providing an accredited Excel course for audit and QI professionals. If you are interested in this, please get in touch. The first Excel spreadsheet is our 'Is it Audit' tool (click here) and by simply answering 4 questions you can determine if your idea is a clinical audit or not. Up second, we have our 'Ready Reckoner' (click here) and this allows you to quickly evaluate your audit idea to see if this is likely to be a successful audit project that is worth undertaking. In a similar vein, HQIP have allowed us to adapt their Quality Impact Analysis Tool (click here) and by completing the Excel form your proposed audit will be allocated a score out of 60. Both our 'Ready Reckoner' and HQIP tool will help you determine whether your audit is worth conducting and help you consider its relevant merits and weaknesses before commencement. Finally, our 'Clinical Audit Critiquer' (click here) allows you to review completed audits and by answering questions the project will be awarded a score out of 25. This is an approximate way of assessing the quality of an audit project based on a number of criteria that most would view as best practice.