---
CASC survey update
We would like to thank all of you that have taken the time to complete our ninth annual clinical audit survey. Yet again, we have had a tremendous response to this and for the ninth year running we have had over 100 responses. Indeed, this year there were a total of 183 responses, second most ever! As in previous years the quality and completeness of the replies is excellent with few questions missed. We had hoped to provide a provisional report early in January, but we have now decided that we will publish the full report by the end of January 2019. This allows us a couple of weeks to go through the data thoroughly and ensure the accuracy of the final report is spot on. We will also be creating a number of infographics to help bring the results to life and these will be shared on Twitter. We will circulate details of the report via our website, Twitter, on the NQICAN forum and via a special CASC e-Newsletter. We are pleased to also announce that we have had some very positive comments in response to our question focusing on how to improve national audits and we will share these suggestions widely.
Join an accredited course
There is never a better time to join one of our accredited courses than at the start of the New Year. The CASC Directors have been running accredited courses for over 20 years and this means that the content, materials and delivery of our training have all been checked and quality assured by an educational body. All of our courses are recognised by the Qualifications and Curriculum Authority (QCA) and can be delivered as in-house courses. Of course, onsite learning saves your learners time and money and allows us to develop bespoke content. We offer training in clinical audit, quality improvement, significant event audit and root cause analysis. In addition, we run courses periodically in Leicester and London, click here for more details. We also appreciate that not all learners have time or the opportunity to attend classroom-based learning and thus we offer our clinical audit distance-learning course. This has proved particularly popular with clinicians who wish to undertake a local project to improve care and meet revalidation requirements. For the remainder of January 2019, this course is on offer at £500 per learner (usual price £660). Click here for details.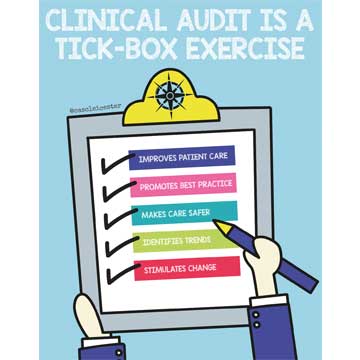 Our plans for 2019
We are looking forward to another busy year and this year we plan to focus on building partnerships and working collaboratively with other teams (no matter how small or large). We have a number of key goals this year, the main one of which is to raise awareness of the fact that there is currently no national clinical audit for social care. Given that more residents sleep in a care home bed each night than in a hospital bed we view this as an unacceptable state of affairs that needs to be rectified. With the Care Quality Commission now using data from many national audits to evaluate and improve care in hospitals, we feel that it is inequitable and wrong that there is not currently one bespoke national audit for the social care sector. This is something we hope to help address, so if you are interested in working with us on this, please do get in touch. In addition, we are planning a number of new training materials and will be adding more resources to our website very soon.