---
Solving ongoing problems: 26 September event
On 6 July Clinical Audit Support Centre joined forces with Nancy Dixon from Healthcare Quality Quest and Healthcare Conferences UK to deliver Clinical Auditorium 6. Over 150 delegates joined the session and the event focused on the highs and lows of clinical audit. Over 100 delegates completed the pre-event survey and the levels of discussion on the day were so extensive that 76 pages of chat comments were generated! Following the event CASC and HQQ analysed the feedback from Auditorium and created a list of the top 5 wicked problems currently facing the clinical audit community (as shown). A follow-up event on 15 August enabled delegates to rank these problems in order and then use groupwork to explore the causes of these issues. To keep the momentum going, we are inviting members of the clinical audit community to join us and Nancy again at 10am on 26 September. Next time we will be looking at how we address some of the causes identified on 15 August. The event is free and to register via Eventbrite, click here.
Book for Clinical Audit and PSIRF
The Patient Safety Incident Response Framework (PSIRF) was formally launched on 16 August 2022. PSIRF represents a considerable change in the way that patient safety incidents are managed and will see the disappearance of the Serious Incident Framework. PSIRF represents a considerable workload for NHS Trusts and is arguably the biggest change to how patient safety is managed since the NHS was established in 1948. While lots of focus for PSIRF has been on SEIPS and human factors, After Action Reviews, better engagement of families and improved interviewing techniques, when it comes to clinical audit there has been relatively little debate. However, for Trusts to maximise their PSIRF work they must understand and utilise clinical audit tools. Indeed, clinical audit underpins effective delivery of PSIRF at many levels. In collaboration with Healthcare Conferences UK, CASC have set up a half-day course that will look at the partnership between PSIRF and clinical audit. To find out more and book your place, click here.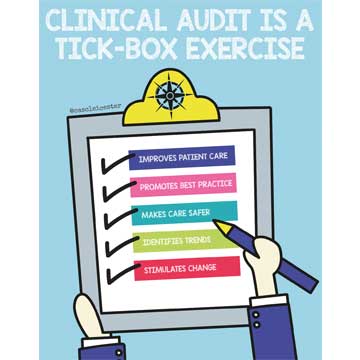 New resources to help promote clinical audit
We are delighted to be able to keep updating resources that we have designed and created (often with the help of our brilliant illustrator Amy Bradley) that help promote the value of clinical audit. We are determined to ensure that clinical audit is seen as a quality improvement methodology that makes a real difference to the care of patients and not a boring, tick-box exercise. With this in mind, we are building on our established resources by releasing two new images that help promote the value of clinical audit. The first plays on the view that clinical audit is a tick-box exercise and is available here. The second links to the clinical audit work of Florence Nightingale and is available here. In addition to our new resources, we have created short films that demonstrate the value of clinical audit. The one-minute offering is available here with the longer version available here. We have also created a poster which explains how valuable clinical audit professionals are, available here and a poster that demonstrates why national clinical audits are important, available here. All these resources can be freely used. However, they must not be adapted without our permission and CASC must be acknowledged when they are utilised.