---
CASC launch new QI blog
We are delighted to be able to announce that CASC have launched a new blogging page using Wix.com and this can be accessed here. Some of you will remember that we first set up an interactive blog in 2013 via our Clinical Audit Tools website. Like many clinical audit blogs, this established some early success but then declined and was moth-balled in 2016. We very much hope that our new blog will learn and build from our previous experience, resulting in a much more useful product. The new blog will not be limited to clinical audit and all articles will have a read time of no more than three minutes. Features will be fast-paced, fun, interesting and sometimes controversial. Our key aim will be to add new content every week, thus making the new resource dynamic and current. We also want to make the new blog interactive and with this in mind visitors to our blog page will be able to add comments and we invite guest blogs from those working in clinical audit, QI and patient safety. Please take a look at the new blog page and tell us your thoughts and suggestions on how it can be improved.
Junior doctor audit/QI competitions
We are delighted to be able to announce full details of our clinical audit and QI competitions for junior doctors. This year marks the tenth anniversary of our first-ever junior doctor audit competition and we are proud to have had so many high-quality projects submitted since 2010. Indeed, many submissions have been published in online and academic journals. As with previous years, juniors can submit to either our clinical audit or QI project awards and this flyer provides more details. Juniors have until 30 August to submit their entries and the entry forms can be downloaded here. This year to help reduce the burden and workload involved, we are requesting that abstract submission be limited to no more than 750 words. The timescales for the competition are as follows: submission deadline is 30 August, finalists will be selected by the end of September, finalists will need to send CASC their electronic posters by the 15 November and judging plus the announcement of winners will take place during Clinical Audit Awareness Week #CAAW19 (25 to 29 November 2019). Please circulate this information to any junior doctors who you know that might be interested in showcasing their hard work.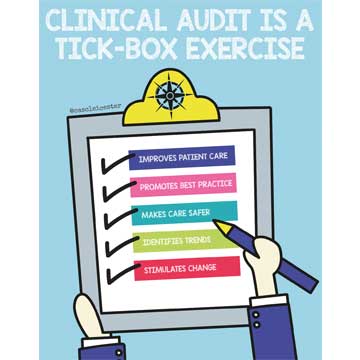 New Excel tools released
To assist those with an interest in clinical audit, we are delighted to be able to release a number of new bespoke Excel tools. Initially we are releasing three Excel spreadsheets with more to follow later in 2019. This work will also compliment the work we are undertaking on providing an accredited Excel course for audit and QI professionals. If you are interested in this, please get in touch. The first Excel spreadsheet is our 'Is it Audit' tool (click here) and by simply answering 4 questions you can determine if your idea is a clinical audit or not. Up second, we have our 'Ready Reckoner' (click here) and this allows you to quickly evaluate your audit idea to see if this is likely to be a successful audit project that is worth undertaking. In a similar vein, HQIP have allowed us to adapt their Quality Impact Analysis Tool (click here) and by completing the Excel form your proposed audit will be allocated a score out of 60. Both our 'Ready Reckoner' and HQIP tool will help you determine whether your audit is worth conducting and help you consider its relevant merits and weaknesses before commencement. Finally, our 'Clinical Audit Critiquer' (click here) allows you to review completed audits and by answering questions the project will be awarded a score out of 25. This is an approximate way of assessing the quality of an audit project based on a number of criteria that most would view as best practice.