---
Free CASC training with AMaT!
We're pleased to announce that Audit Management and Tracking (AMaT) has selected Clinical Audit Support Centre to deliver clinical audit training to Trusts taking out new licences for their Audit Management and Tracking software. The training is CASC's accredited, level 3 one-day Clinical Audit course, and AMaT are FUNDING 20 FREE places for each Trust, to be delivered onsite. Many clinical audit, QI professionals and clinicians have studied for this course, as it provides them with all the tools required to conduct effective audits. The course is very well-received and over 99% of learners would recommend it. To see the flyer for the course, click here. AMaT recognises that training is a vital component of successful clinical audit. By offering this course, they want to show their commitment to supporting NHS teams to use clinical audit in the most effective way possible. To find out more, visit the AMaT website here. Or contact the CASC team via info@clinicalauditsupport.com
New #CAAW resources online
The seventh annual Clinical Audit Awareness Week aka #CAAW19 will run from 25 to 29 November 2019. This is an opportunity to champion all things clinical audit and to celebrate the fabulous work that those in our profession undertake to improve care and make it safer. The CASC team have been beavering away updating our resources for #CAAW19 and we have also been working on some new materials these have now been shared via our dedicated #CAAW section on our website, click here. We have pledge cards and placards to download, our popular Dummies Guide for Clinical Audit, news on our tenth anniversary clinical audit survey, audit and QI posters from junior doctor, a whole range of competitions, news of our webcast on 25 November, etc. We have created a one-page infographic, click here, that provides more details of our plans and we are particularly excited about our idea to work with the audit community in #CAAW19 to collaborate and build a number of new resources.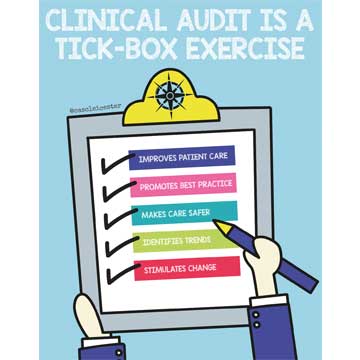 New Excel tools released
To assist those with an interest in clinical audit, we are delighted to be able to release a number of new bespoke Excel tools. Initially we are releasing three Excel spreadsheets with more to follow later in 2019. This work will also compliment the work we are undertaking on providing an accredited Excel course for audit and QI professionals. If you are interested in this, please get in touch. The first Excel spreadsheet is our 'Is it Audit' tool (click here) and by simply answering 4 questions you can determine if your idea is a clinical audit or not. Up second, we have our 'Ready Reckoner' (click here) and this allows you to quickly evaluate your audit idea to see if this is likely to be a successful audit project that is worth undertaking. In a similar vein, HQIP have allowed us to adapt their Quality Impact Analysis Tool (click here) and by completing the Excel form your proposed audit will be allocated a score out of 60. Both our 'Ready Reckoner' and HQIP tool will help you determine whether your audit is worth conducting and help you consider its relevant merits and weaknesses before commencement. Finally, our 'Clinical Audit Critiquer' (click here) allows you to review completed audits and by answering questions the project will be awarded a score out of 25. This is an approximate way of assessing the quality of an audit project based on a number of criteria that most would view as best practice.