This year Clinical Audit Awareness Week also known as #CAAW18 is taking place from 19-23 November 2018 and once again the Clinical Audit Support Centre are providing lots of free resources and materials to help. In terms of a little background, Healthcare Quality Improvement Partnership (HQIP) set up Clinical Audit Awareness Week as part of their contract with NHS England in 2013 and the initiative has gradually gained momentum with many local, regional and national clinical audit teams using the week to showcase their clinical audit initiatives.
Ever since Clinical Audit Awareness Week was set up in 2013, CASC have used the event to raise the profile of clinical audit. For example, the winners of our Clinical Audit and QI competitions for Junior Doctors (set up in 2010) have been released during #CAAW18. We have also used the week to launch various Twitter campaigns, run training events around the country and share materials. In 2017 we created a vast range of quizzes, documents and materials that were really well received and this year we have gone even bigger! Our #CAAW18 brochure, click here, provides details of how we are supporting the initiative this November.
Clinical Audit pledge cards
Last year we created simple pledge cards for #CAAW18 and these proved hugely popular with many teams and individuals sharing their pledges on Twitter. We are not precious about our materials but if you use our pledge cards please do not remove our logo (as some did last year!). This time around we have more pledge cards available to download:
Dummies Guide for Clinical Audit
We believe that #CAAW18 represents an ideal and obvious opportunity to introduce healthcare professionals and others to the discipline. However, many individuals struggle to understand what clinical audit is, what the process involves and how audit relates to them. Our 8-page Dummies Guide is aimed at audit novices. To download this resource, click here.
Case Studies
Clinical audit has a mixed reputation and we have to accept that. Clinical Audit Support Centre believe that it is essential that we focus on real-world projects that have had a positive impact on patients and their care. With this in mind, we invited teams across the country to share their work and we have been overwhelmed by the response. We are also aware that #CAAW has traditionally focused on work being carried out by NHS hospitals and so wanted to offer balance by illustrating that clinical audit is a quality improvement tool used in many settings. The section below includes downloadable short case studies from: acute, mental health, community, hospice, primary care and ambulance settings. There is even a case study from a group of vets in Bristol!!!
Clinical Audit profiles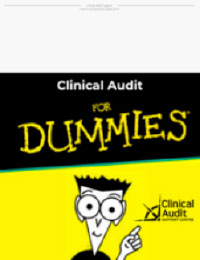 In essence, audit is often looking back and learning. With this in mind, we have asked some of the most high-profile ex-clinical audit professionals that we have had the pleasure of working with to create a short profile that tells us 1) about their career in audit, 2) about their current work/role and 3) ideas they have as ex-audit professionals to help improve clinical audit. The response has been very pleasing and below we have profiles of: an ex-NQICAN chairman and NAGCAE member, ex-regional network chairperson and the first ever person to be awarded #CAAW Clinical Audit Hero status by HQIP (Louise Waller).
Clinical audit competitions and quizzes
We have always used Clinical Audit Awareness Week to run a number of fun competitions/quizzes and consider the 'lighter side' of clinical audit. This year we have two competitions that will are encouraging people to take part in. First of all, there is our clinical audit acronym competition whereby we challenge prospective participants to devise a cunning new acronym using the letters A-U-D-I-T. We are looking for positive, uplifting and funny replies and we will award a cash prize to the winner. You can download your entry card here and to enter you need to either share your entry on Twitter or email us at info@clinicalauditsupport.com by 23 November. As an example, our favourite acronym to date is available here. In addition, we are running a 'Clinical Audit strapline' competition whereby you have to create a new strapline to promote clinical audit. A favourite example is provided here. The blank entry form is available here. Again, all entries must reach us via email or Twitter by the end 23 November and winners will be announced week beginning 26 November. Below are fun quizzes we generated to use at local #CAAW events and training sessions from last year.
Junior Doctor competitions
Since 2010 we have run our annual clinical audit competition for junior doctors and in 2014 we extended this by setting up a competition for Quality Improvement Projects. As in previous years, we will be announcing the results of our annual audit and QI competitions during #CAAW18 but this year we also aim to share entries to help spread examples of real-world projects. Posters that we have received to date are shared below:
The Clinical Audit Prize
Many people told us that they wanted an opportunity to enter their work into a generic clinical audit competition and with this in mind, earlier in 2018 we set up a new competition open to all. It seems logical to select the winner of this during #CAAW18 and again in an attempt to showcase and share real-life examples we have made available the posters that we have received from entrants to date below:
Follow-us on Twitter
During Clinical Audit Awareness Week, we have a busy diary but as ever we will attempt to use Twitter to post materials and updates. You can follow us and keep track of our activities via @cascleicester. For those of you who are not on Twitter, we have created a simple document that explains how to set up a Twitter account and get started. Click here.
#CAAW Support from HQIP
The Healthcare Quality Improvement Partnership have created a number of resources to support #CAAW18 and these include their Clinical Audit Hero awards. To find out more in terms of what HQIP are offering, click here.
#CAAW Support from NQICAN
The National Quality Improvement (including Clinical Audit) Network have generated lots of new resources for #CAAW18 and they have also set up a pop-up Clinical Audit Awareness Week section on their forum. To access the NQICAN website, click here.